Let's take a look at how importing and exporting projects has changed in Sony Vegas 12. With Sony's latest update, they introduced Project-Interchange tools allowing you to exchange projects with other popular editing platforms. A few new protocols were added to the list.
---
Project Interchange Formats
AAF — Avid Pro Tools, Avid Media Composer.
PPROJ — Adobe Premiere Pro and After Effects*
XML — Final Cut Pro 7 or DaVinci Resolve.
FCPXML — Final Cut Pro X
EDL — Text Files
*Only accepts After Effects files in the PPROJ format. The After Effects .AEP format is not compatible.
You can import After Effects projects but the only format it accepts them in is .PPROJ, and After Effects produces .AEP files. I don't really see it importing After Effects projects unless they're in the Premiere Pro .PPROJ format. A little confusing, not sure why they even put After Effects in there. Unless you edited all the video in After Effects and exported it as a Premiere Pro file. Plus you gotta think, After Effects works a lot differently than Vegas and if they did allow .AEP files they'd probably only work on a single track without all the layers.
Import/Exporting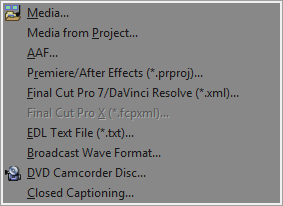 Import — To import projects into Sony Vegas, go to File > Import > and choose your desired format. Find the project file and click Open. A report log will display if some items aren't compatible. Keep in mind that once the file is imported into Vegas, the file will need to be saved as a Vegas(.veg) file. You can't directly edit and save as a Premiere Pro project for example. You'll have to re-export the project to your desire format once finished editing.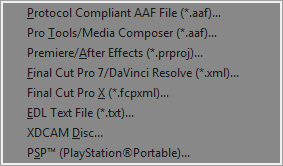 Export — To export projects in Sony Vegas, go to File > Export > and choose your desired format. Name the project and click Save. You can choose whether or not to export all Media Files. Choosing "Yes" will save all media files in the same folder you exported the project to. Handy if you want to keep all the video files together when transferring to a different application.  A report log will display if some items were changed depending on the particular format chosen. Keep in mind that Vegas only seems to export to Adobe CS6 products not CS5.5 or below.
---
The new Project Interchange tools in Sony Vegas can be very useful if you ever need to switch to a different editing program or export a project for a client. Just a few more tools to make the editing process easier. Although, keep in mind some programs may not support all the same effects produced in Sony Vegas. Therefore, you may get mixed results depending on the program whether text, effects or transitions are added.
---
Be sure to stay tuned as we'll be covering Vegas Pro 12′s new features in future posts.Check out what's new here.
What new features would you like to make sure we cover? Let us know in the comments below!