New YouTube Layout Template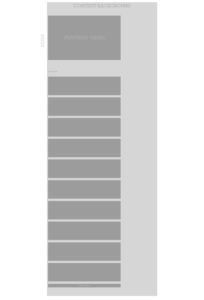 Well YouTube's done it again! They've updated their channel designs. This time, they haven't left much design flexibility for non-partners. No more transparency, etc. Even though, I still put together a nice little template for you guys to use in Photoshop when designing your layout. This is not meant to be used as a background right off the bat but to provide help when designing them. Be sure to crop it to the length needed. Hope this helps!
Dimensions: 1800 X 2980 pixels. Use whatever length you need but I typically go with 1800px for the width.
*Note, YouTube occasionally makes slight changes to it's layout. I recently had to move a few things around as the video area and uploads moved down a bit. This was last updated June 2012, please let me know if something is not properly placed so I can make the appropriate updates. Thanks!
If you use this template in your YouTube channel, leave your channel link in the comments below!
If you enjoyed this post, please consider leaving a comment or sharing it along with your friends!
Comments