Photoshop: Creative Facebook Timeline Cover
With Facebook's recent push of their new Timeline to all users, people are surely getting jiggy with it. By that I mean, utilizing their cover and profile photos in a whole new way. Take a look at MysteryGuitarMan's timeline for example;
As you can see, he's holding mini Joe in his profile picture while his cover photo shows the rest of that image. If you look closely, you can even see mini Joe's hat and part of Joe's hand protruding from his profile image. What an awesome effect!
More Examples/Inspiration
Video
Tutorial
Let's take a look at how to create this effect in Photoshop! We'll take this Lion photo;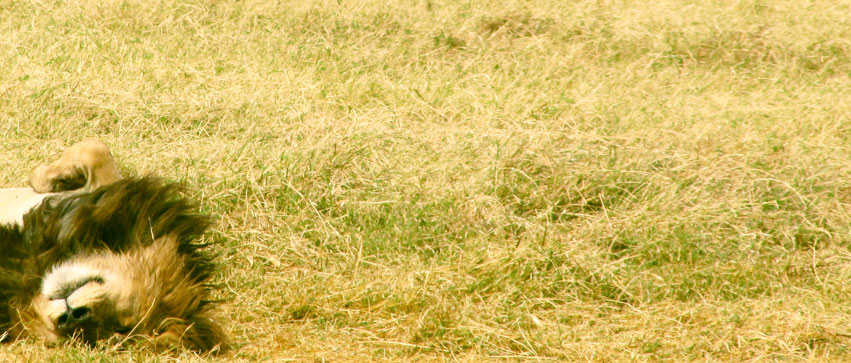 and turn it into this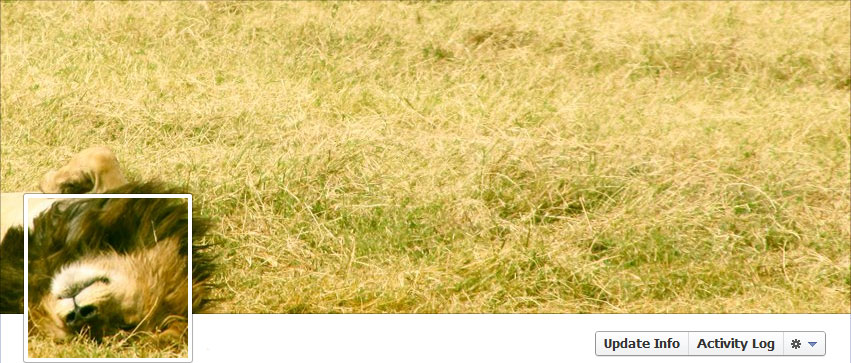 I went ahead and created two pre-made templates for you to work from. One for your profile page and another for your fan page since they both slightly differ. You can get them below.
*Profile template has been updated as of May 2013
*Fan Page template has been updated as of April 2012.
Step 1
We'll begin by opening the template in Photoshop. If you get a message saying, "This document contains unknown data which will be discarded to keep layers editable…" Just click, "Keep Layers".

Depending on your settings, You should see exactly what I see here;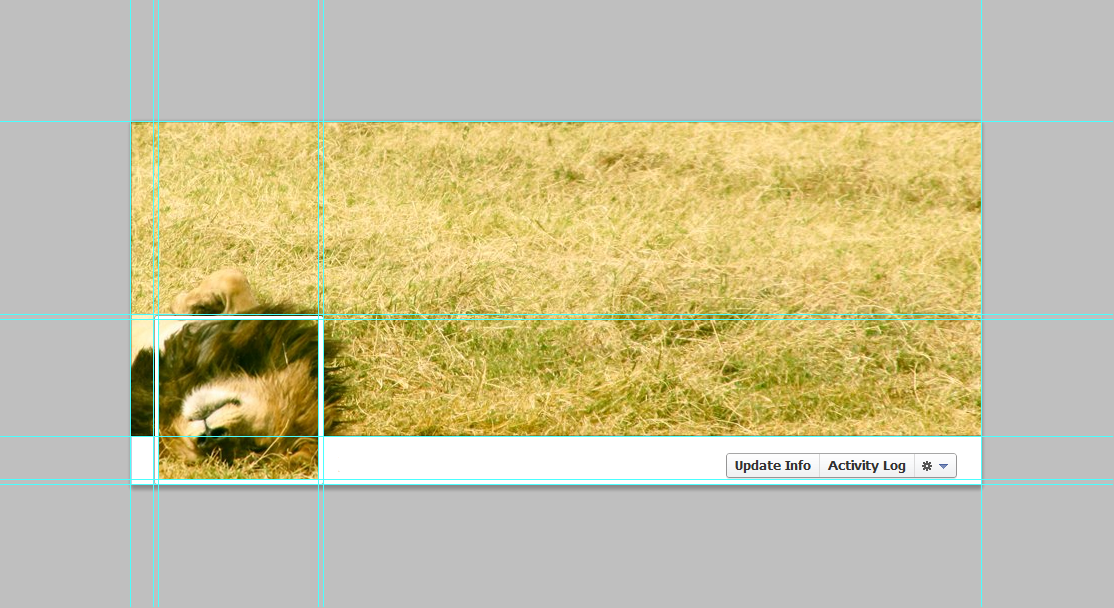 If you don't see the Guides, go to View > Extras, Win: Ctrl-H Mac: Cmd-H
STEP 2
We need to import or create the image to be placed in our timeline. I copied the image from online and pasted it into Photoshop. You can either drag a new photo into the document or you can go to File > Place and import the photo that way.
Make sure this new layer is above the Reference layer so you can position it. I've included a practice layer in the document in case you want to follow along but don't yet have an idea on what you want to do. You can show or hide that layer if needed. There's also two placeholder layers that you can show or hide if needed as well. These are there to help align your image.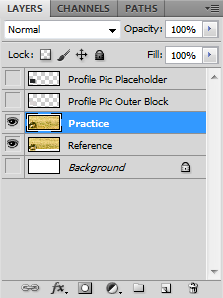 Our goal here is to get the lions head within the profile image boundary. Fit the image exactly how you want it to appear.
STEP 3
We now need to extract our cover and profile photos from this template. With our photo layer selected, go to the Rectangular Marquee Tool (

) and select the cover photo area. Refer to the guide below that shows the cover area in red. The guides will help with your selection.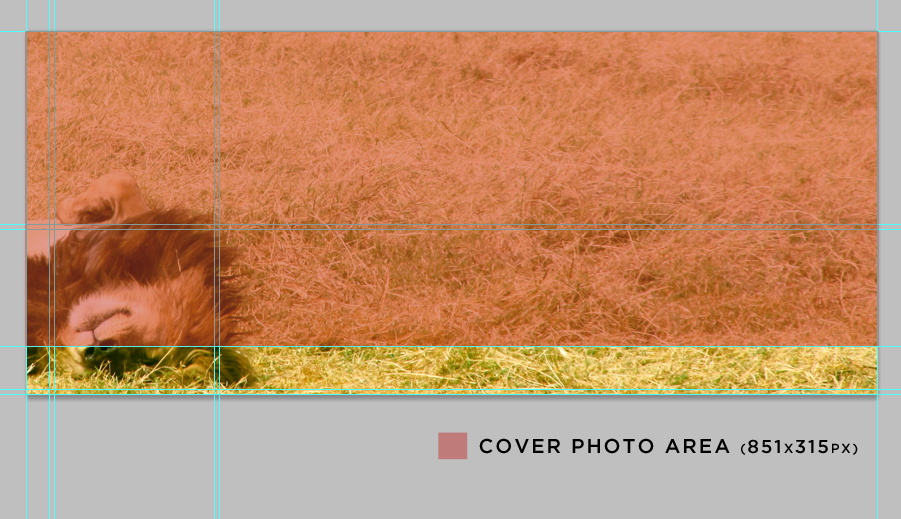 Once done, go to Edit > Copy.
Note: If you have more than one photo layer, turn off all layers except the one's that are part of the image. After you make the selection, go to Edit > Copy Merged instead. This will copy all visible layers merged into one.
Create a new document; File > New and we can name this, "coverphoto". The size here should be 851 x 315 pixels since that is the size needed for Facebook's cover photos. Click OK.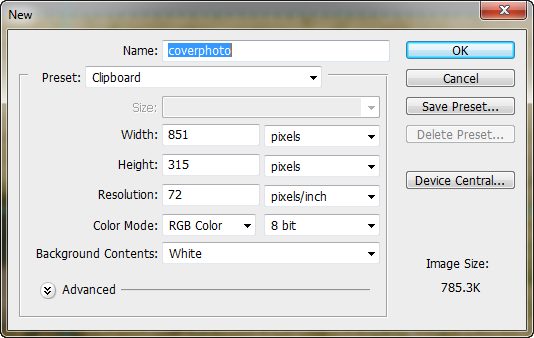 Go to Edit > Paste. You should now see the complete cover photo. Go to File > Save As and save this in whatever format you prefer and that Facebook allows. Facebook recommends a JPG photo. There's been some issues with uploading PNGs to Facebook.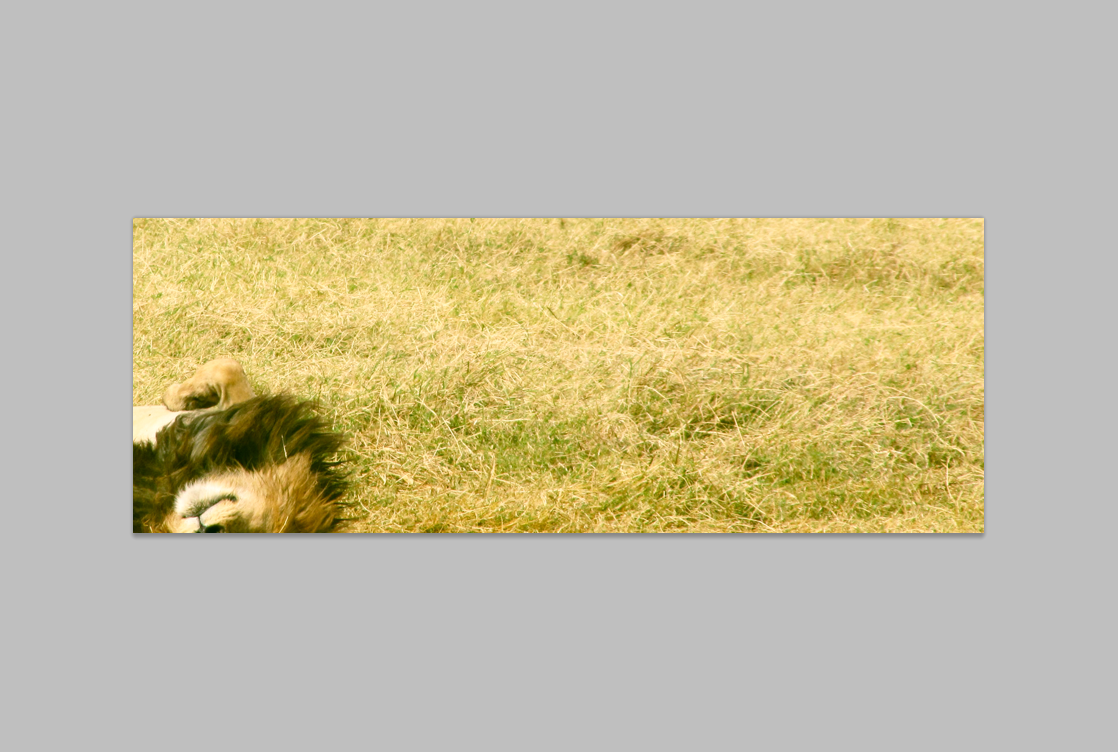 STEP 4
Now that our cover photo has been extracted, we need to go get our profile picture. Go back to the template document and just like before, we'll need to make a new selection using the Rectangular Marquee Tool. This time, select the blue area as shown in the reference photo below. This will be our profile picture.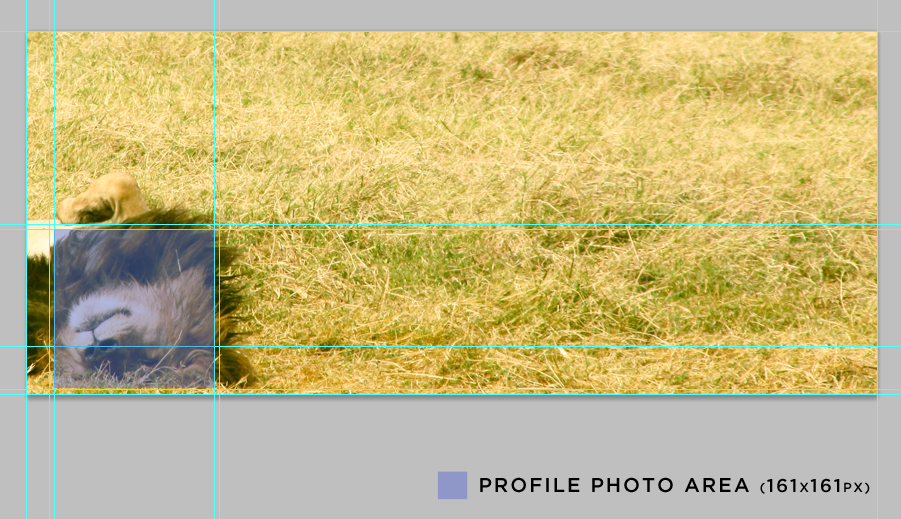 Go to Edit > Copy or Copy Merged depending on if you have single or multiple layers.
Go to File > New and create a new document. We'll name this, "profilepicture".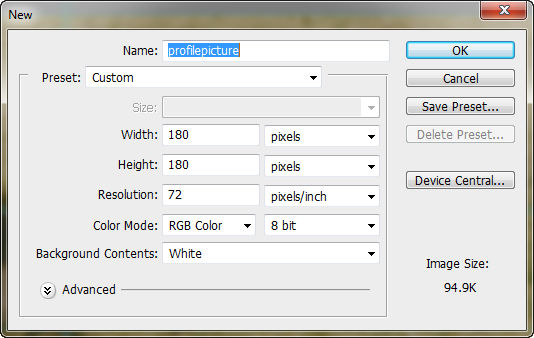 As you can see, we have a slight problem with the width and height (161×161). Facebook's profile images must be at least 180px wide. To fix that, change the document size to 180 x 180 pixels. Click OK.
Go to Edit > Paste. Your profile photo is now placed inside that document. But, you can see a white edge since the image is too small.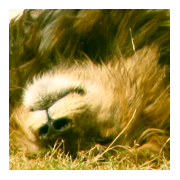 To fix this, we'll need to size this image to our document. Go to Edit > Free Transform, Win: Ctrl-T Mac: Cmd-T and size the image up to the document.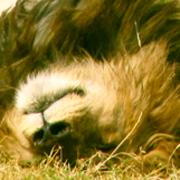 Our profile picture is now complete. Go to File > Save As and save this in whatever format you prefer and that Facebook allows. Facebook recommends a JPG photo. Lately, there's been some issues with uploading PNGs to Facebook.
STEP 5
Now all that's left to do is to place these images on our Facebook page. Upload the cover photo in the cover photo area and the profile photo as your profile picture.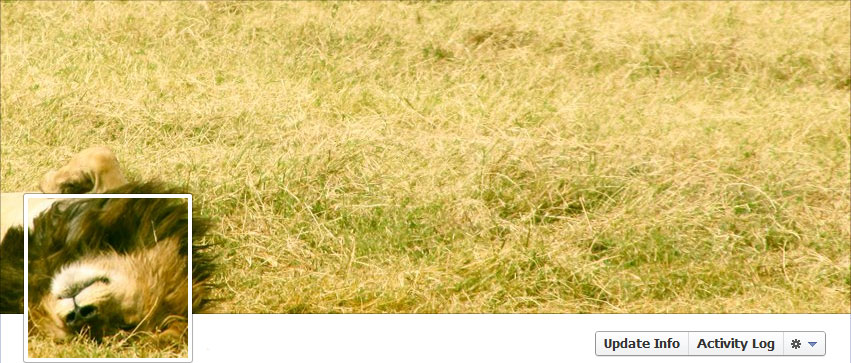 That's it! We're done. You've just created a very neat looking cover photo that coincides with your profile picture in Photoshop! Get creative and you'll probably have people ask, how did you do that!? Well, you can send them here if you want ;). Again, look through some of the inspiration links I've provided at the beginning of this post. You're only limited to your imagination! These same steps will help you set up the Fan Page template as well.
UPDATE! 11/20
Facebook automatically scales profile photo's which makes the cover photo's out of line. Here's the fix;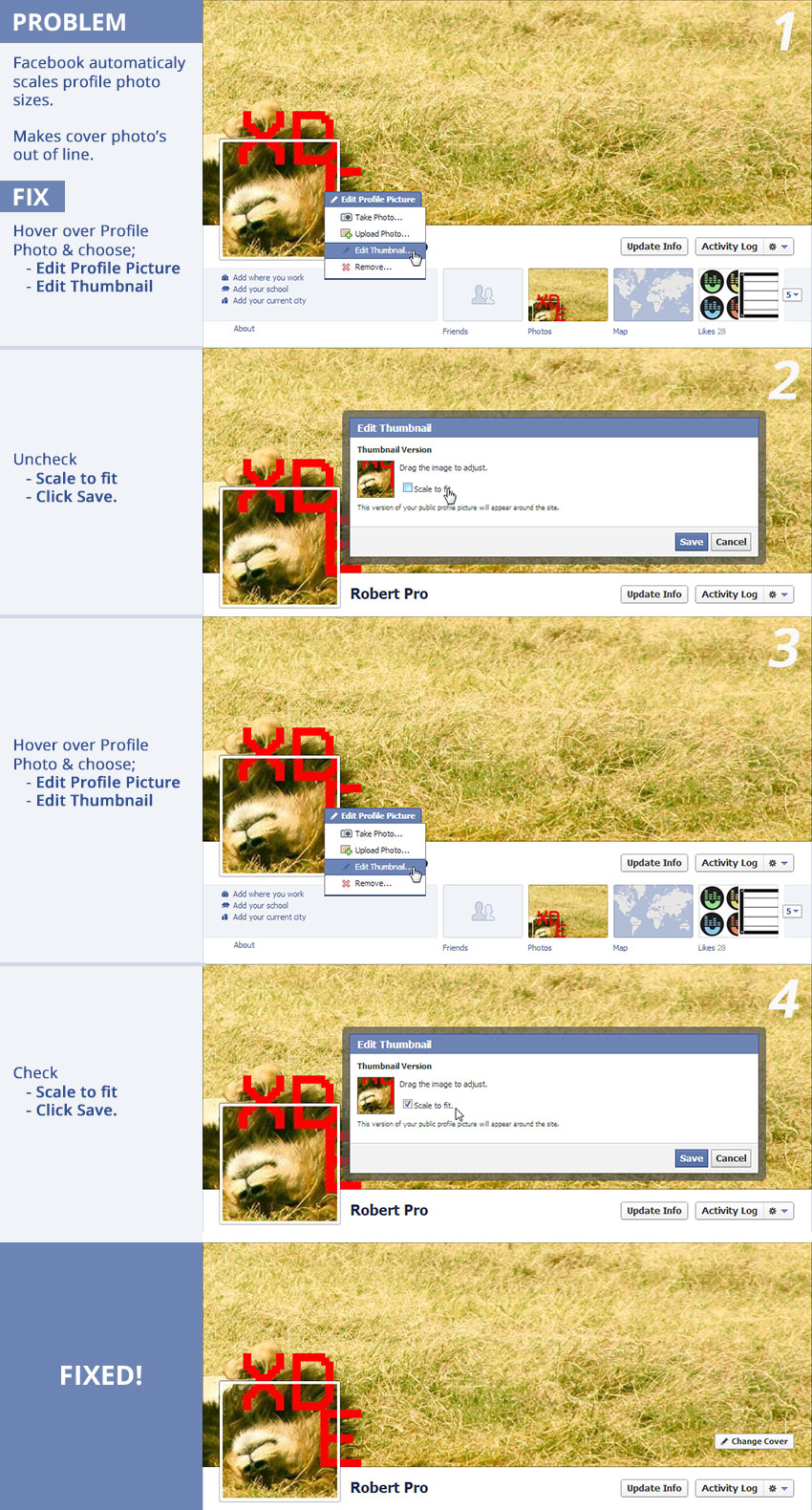 GALLERY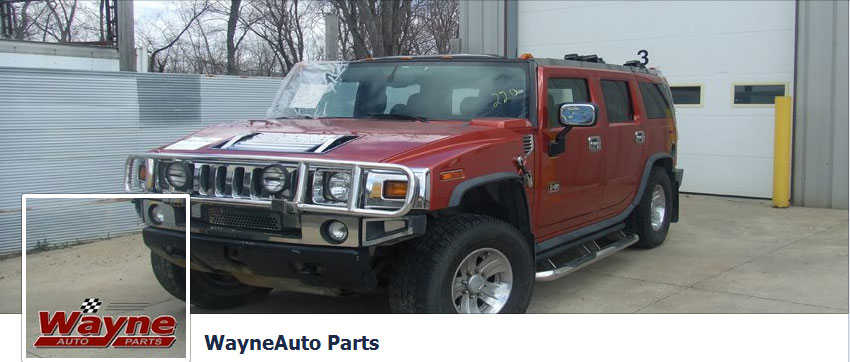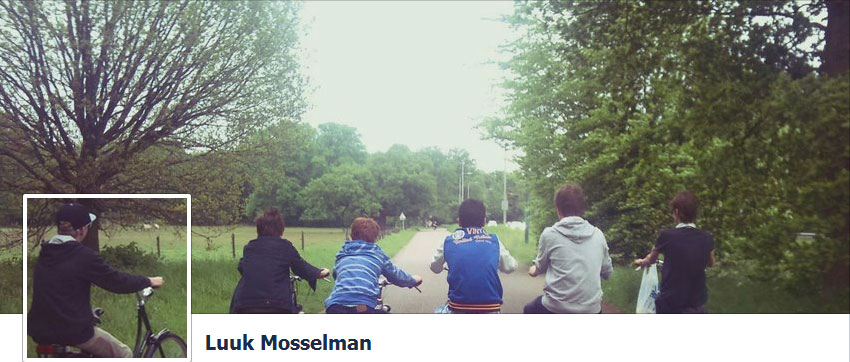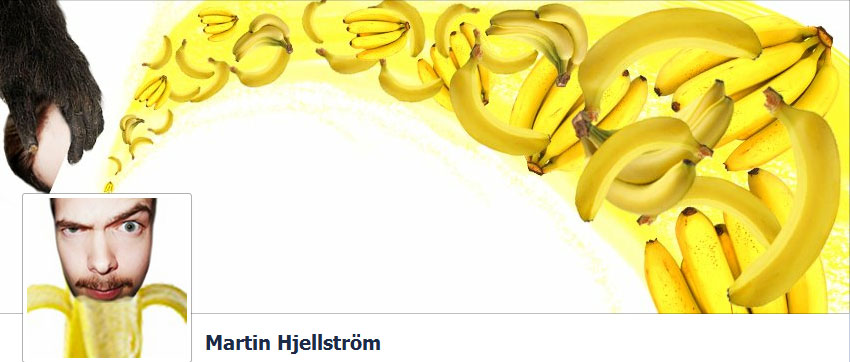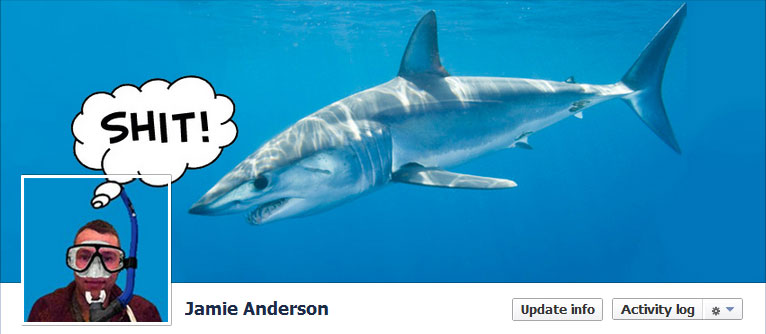 If you happen to trick out your Facebook timeline using the methods in this tutorial, leave your Facebook profile link in the comments below. I'd love to see what you guys come up with and maybe even share them.

If you enjoyed this post, please consider leaving a comment or sharing it along with your friends!
Comments